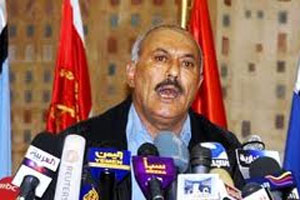 Dubai
: Yemeni President Ali Abdullah Saleh's 32-year-old iron fisted rule appeared to be tottering on Monday after three army generals, including his longtime confidant, defected, asking him to step down and deployed tanks and armoured vehicles to protect the protesters.
Maj Gen Ali Mohsen Saleh, who belongs to President's influential 'Hashid' tribe and is commander of the army's powerful 1st Armoured Division, publicly announced his defection, al Jazeera reported.
Simultaneously with defections in the army, al Jazeera said the governor of Yemen's southern province of Aden, Ahmad
Qaatabi, had also joined the protesters.
A confrontation could break out as tanks and armoured carriers belonging to the elite Republican Guards led by Saleh's son and one time heir apparent were deployed outside the presidential palace on the southern outskirts of the capital.
Along with Mohsen two other key generals and dozens of high and middle ranking officers also pledged their support for the protest movement.
Quoting highly placed sources, the Arab news channel said about "90 per cent of the army had now joined the protesters."
Minutes after the general's announcement, units of his armoured division, which included tanks, took up positions in a major square in the capital, Sanaa, where protesters have been camping out to call for President to step down.
The two others are Mohammed Ali Mohsen and Hameed al-Qusaibi, who both have the rank of brigadier.
All three officers belong to Saleh's tribe, which also called on the President to resign on Sunday, dealing a serious blow to his desperate attempts to cling on to power.
News of the defections came one day after crowds flooded cities and towns across Yemen to mourn 52 protesters killed Friday when Saleh's security forces opened fire from rooftops on a demonstration in the Yemeni capital.
Quoting Hakim Al Masmari, editor -in-chief of Yemen Post, al Jazeera said the defections spell the end for Saleh.
The channel said that dozens of army officers had one by one announced their decision to quit Saleh's regime at the sit-in near Sanaa University.
Welcoming the defections, the Opposition leaders leading the protest march said they would press for formation of a national emergency government on the pattern of the one formed in Egypt.