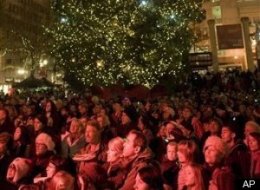 The tree is lit on Pioneer Courthouse square Friday night Nov. 26, 2010 to the music of Pink Martini and with Santa Claus in front of a shoulder-to-shoulder crowd singing holiday music in the square. A Somali-born teenager, Mohamed Osman Mohamud, 19, was arrested at 5:40 p.m. just after he dialed a cell phone that he thought would blow up a van laden with explosives but instead brought federal agents and Portland police swooping in to take him into custody, federal prosecutors said.
PORTLAND, Ore.
— Federal agents in a sting operation stopped a Somali-born teenager from blowing up a van full of explosives at a crowded Christmas tree lighting ceremony in Portland on Friday, authorities said.
Mohamed Osman Mohamud, 19, was arrested at 5:40 p.m. just after he dialed a cell phone that he thought would detonate the explosives but instead brought federal agents and Portland police swooping down on him.
Yelling "Allahu Akbar!" – Arabic for "God is great!" – Mohamud tried to kick agents and police as they closed in, according to prosecutors.
The bomb was a dud supplied by undercover agents as part of the sting and the public was never in danger, prosecutors said.
"This defendant's chilling determination is a stark reminder that there are people – even here in Oregon – who are determined to kill Americans," U.S. Attorney Dwight Holton said. "We have no reason to believe there is any continuing threat arising from this case."
Mohamud, a naturalized U.S. citizen living in Corvallis, was charged with attempted use of a weapon of mass destruction. He's scheduled for a court appearance Monday.
The arrest comes as the U.S. has been struggling with an uptick in Americans or U.S. residents plotting terrorist attacks.
Holton released federal court documents that show the sting operation began in June after an undercover agent learned that Mohamud had been in contact with an "unindicted associate" in Pakistan's northwest, a frontier region where Al Qaida and Afghanistan's Taliban insurgents are strong.
"The complaint alleges that Mohamud attempted to detonate what he believed to be a vehicle bomb at a crowded holiday event," said David Kris, Assistant Attorney General for National Security. "Law enforcement action was able to thwart his efforts and ensure no one was harmed."
According to a federal complaint, Mohamud was in regular email contact with the "unindicted associate' in Pakistan's Northwest Frontier starting in August 2009.
The complaint states that in December 2009 Mohamud and the associate used coded language in an email in which the FBI believes Mohamud discussed traveling to Pakistan to prepare for "violent jihad."
In the months that followed Mohamud made 'multiple efforts" to contact another "undicted associate" to arrange travel to Pakistan but had a faulty email address for that person.
Last June an FBI agent contacted Mohamud "under the guise of being affiliated with the first associate."
Mohamud and the undercover agent agreed to meet in Portland on July 30. At that meeting, the undercover agent and Mohamud "discussed violent jihad," according to the court document.
Mohamud told the agent he wanted to set off explosives at the annual Christmas tree lighting ceremony in Portland's Pioneer Courthouse Square, an event that occurred on Friday.
On Friday, an undercover agent and Mohamud drove to downtown Portland in a white van that carried six 55-gallon drums with detonation cords and plastic caps, but all of them were inert, the complaint states.
They got out of the van and walked to meet another undercover agent, who drove to Union Station, the Portland train station, where Mohamud was given a cell phone that he thought would blow up the van, according to the complaint.
Mohamud dialed the phone agents had given him, and was told the bomb did not detonate. The undercover agents suggested he get out of the car and try again to improve the signal, when he did, he was arrested, the complaint said.
U.S. authorities have been struggling against a recent spate of terror plans by U.S. citizens or residents.
In May, Faisal Shazhad, a naturalized citizen also from Pakistan, tried to set off a car bomb at a bustling street corner in New York City. U.S. authorities had no intelligence about Shahzad's plot until the smoking car turned up in Manhattan.
Late last month, Pakistan-born Farooque Ahmed, 34, of Virginia was arrested and accused of casing Washington-area subway stations in what he thought was an al-Qaida plot to bomb and kill commuters. Similar to the Portland sting, the bombing plot was a ruse conducted over the past six months by federal officials.
Also in October, a Hawaii man was arrested and accused of making false statements to the FBI about his plans to attend terrorist training in Pakistan.
In August, a Virginia man was caught trying to leave the country to fight with an al-Qaida-affiliated group in Somalia.