Press Trust of India, Saturday April 18, 2009, Washington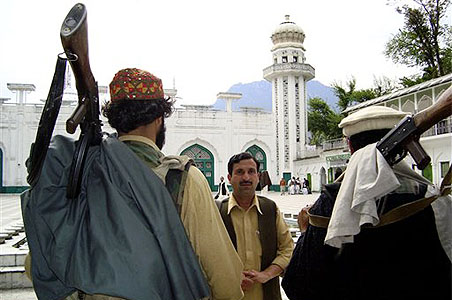 AP image
US is trying to prevent the Taliban in Pakistan and Afghanistan from using radio stations and websites to intimidate civilians and plan attacks, pushing deeper into "psychological operations" against the militants who have an edge in the "information war", a media report said on Saturday.
Under the broad effort launched by the Obama Administration, US military and intelligence personnel are working to jam the unlicensed radio stations that the Taliban fighters use to broadcast threats and decrees in Pakistan's restive northwestern region bordering Afghanistan, The Wall Street Journal reported citing senior American officials.
It said the US personnel are also trying to block the Pakistani chat rooms and websites that frequently contain videos of attacks and inflammatory religious material that attempts to justify acts of violence.
The push takes the administration deeper into "psychological operations," which attempt to influence how people see the US, its allies and enemies, the report said.
Psychological operations are necessary part of reversing deterioration of stability in both Afghanistan and Pakistan, it said citing officials involved with the new programme.
US officials believe that the Taliban enjoy an advantage by being able to freely communicate threats and decrees. "The Taliban aren't just winning the information war -- we're not even putting up that much of a fight," a senior US official in Afghanistan was quoted as saying.
"We need to make it harder for them (Taliban) to keep telling the population that they're in control and can strike at any time," the official said.
The paper noted that Taliban leaders in Pakistan use unlicensed FM stations to recite the names of local government officials, police officers and other figures who have been marked for death by the group. Hundreds of people named in the broadcasts have later been killed, it said quoting officials.
The US may also provide radio-jamming equipment to the Pakistani government, the report said citing officials familiar with the plans.
The new push reflects the influence of Gen. David Petraeus, who runs the military's Central Command and has long been a major proponent of using psychological operations to reduce popular support for armed Islamist groups, it said.
Richard Holbrooke, Special US Envoy for Afghanistan and Pakistan, had earlier likened the Taliban radio stations to Rwanda's Radio Mille Collines, a virulently sectarian broadcaster widely believed to have helped fuel the Rwandan genocide, the Journal said.
"Nothing has been done so far" about impeding the Taliban communications, Holbrooke had said. "We have identified the information issue ... as a major, major gap to be filled."
The US has started American-funded radio stations in many rural parts of Afghanistan, the paper said.